Following are the program updates and notes. If you have missed an update don't worry. You can simply re-download the software from our website directly from this link:
V3.0.0.26 – July 2022
What's New
Correction to the UG Chambers chart titles not being printed properly when utilizing multiple UG Chamber ponds in the same project.
Generic UG Chambers total plan length has been revised. The added length due to Headers has been reduced to only one half of the Encasement Width on each end. Previous versions added a full Encasement Width. Plan and Section plots have been improved.
Channel Reach n-values on reports has been corrected to show the most current value.
---
V3.0.0.23/24/25 – April 2022
What's New
Eight more design storms were added. The Florida DOT (FDOT) 1, 2, 4, 8, 24 and 72-hour including the SFWMD 72-hour. Also, the 24-hour Austin, Texas Zones 1 & 2 were added. Note that the precipitation values for these newer storms are not embedded in RainMaps files but values are added as defaults. You may wish to verify and edit these rainfall amounts in the Rainfall Wizard before utilizing them.
New manufacturer underground chamber from ADS-Pipe was added.
Miscellaneous cosmetic user interface edits.
---
V3.0.0.22 – February 2022
What's New
This is a mainly a security update. Hydrology Studio renews the code signing certificate every three years using the latest signature algorithm sha256RSA insuring that the software you download here is authentic and untampered with. The new Authenticode Certificate may not be recognized initially by your PC so you may see a security prompt as shown below. If so, click the "More info…" link and then click [Run anyway]. The new version will install.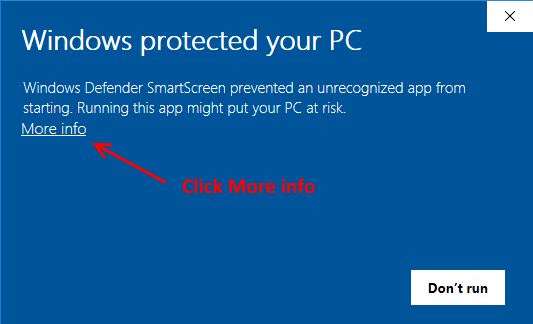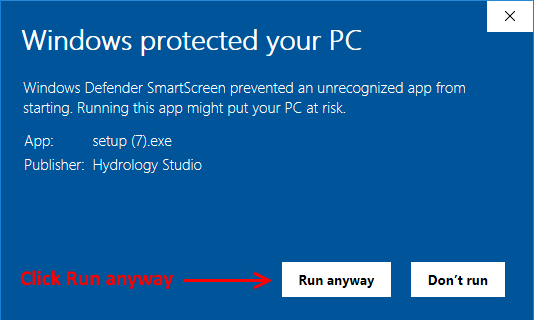 2. Minor cosmetic user interface updates.
3. Increased the precision on drainage area inputs to three decimal places to better accommodate smaller-sized projects.
---
V3.0.0.21 – December 2021
What's New
More editing features in the Pond data Contours input grid. You'll be able to insert and delete rows by right-clicking on the data grid to expose these new editing functions via a pop-up context menu.
A new tab has been added to the main window which focuses on Rainfall. This tab will allow you to quickly and easily access Hydrology Studio's RainMaps™; open IDF, PCP and CDS rainfall files; activate and deactivate Return Periods and select a different NRCS Hydrograph design storm from a drop-down list box. All without ever needing to open the Rainfall Wizard window.


---
V3.0.0.20 – July 2021
What's New
TR55 Tc Worksheet now includes seven Flow Types for Shallow Concentrated flow rather than the previous two (Paved or Unpaved). Please see, Time of Concentration in Computational Methods for more details.
Miscellaneous cosmetic edits.
---
V3.0.0.19 – April 2021
What's New
Updated Huff Design Storm distributions reflecting the latest data published in ISWS Bulletin 75.
Added all of the ISWS Climatic Sections (1-10) to RainMaps for the state of Illinois.
---
V3.0.0.18 – March, 2021
What's New
Added labels to the Hydrograph Reports indicating the elevation selected for Wet Pond routings.
---
V3.0.0.17 – January, 2021
What's New
RainMaps™ has been introduced! RainMaps™ is a cloud-based resource where you can download ready-to-use rainfall files for use in any of the Hydrology Studio Suite programs. RainMaps™ contains rainfall files (.idf and .pcp) you would normally set-up in the software either by direct entry of data or importing from NOAA Atlas 14. We've taken all of the steps required to create these files so you won't have to. And they are available with just a couple of mouse-clicks. Learn more about RainMaps™
We improved the calculation algorithms that generate equation coefficients for the IDF equation.
Miscellaneous cosmetic and user-interface updates.
---
V3.0.0.15/16 – June, 2020
What's New
You've seen or heard of Full Spectrum Detention by now and that criteria involves things like, WQv, CPv and Drain Times to combat excess urban development volume. Many moving parts, acronyms and longer design times. But now there's a newer and better way to conquer the evils of post-development volume. It's more effective, faster and easier to design with. It's a criterion called "Volumetric Detention". It's now a part of Hydrology Studio. It's built-in, fully automatic and far easier to achieve a detention pond that serves both peak release criteria and volume. Learn more here…
---
V3.0.0.14 – March, 2020
What's New
More of the latest NRCS 24-hr dimensionless design storms have been added. Namely, MSE (1 through 6), NOAA (A, B, C, D), NRCC (A, B, C, D) and CA (1 through 6).
Two more Extended Detention Volume inputs have been added.
License Server has been updated to provide a User Account dashboard where you can view purchase history, license keys and manage your subscription.
---
V3.0.0.13 – September, 2019
What's New
You can now paste tab-delimited Elevation / Contours into the Pond table. This will be very helpful during your pond designs where you have to go through multiple iterations to make your site plan work. This feature allows you to copy and paste data from your CAD software or from an Excel spreadsheet. Learn more here…
The inputs for the Pond Culvert and Orifices has been simplified. You no longer need to enter the Rise and Span for circular sections. Just the Diameter. A new drop-down list box provides a Circular and Rectangular option. Circular is the default.
The inputs for the Pond Compound Weirs have been simplified.
---
V3.0.0.12 – August, 2019
What's New
The software now stores your product key (Serial Number) so that you can Activate and Deactivate the License without re-entering your key each time. Three mouse clicks is all it takes.
---
v3.0.0.11 – July 2019
What's New
1. Added the option to specify a circular orifice to the Detention Pond Culvert Restrictor Plate. Earlier versions only allowed a rectangular plate.
2. The software will no longer apply a submerged weir analysis on Riser structures. This eliminates unnecessary oscillations in the Stage-Discharge curve that typically appears for very short periods.
3. Added an option to view the numerical output along with the detention pond Structure, Plan and Profile plots. Select any row on this Expander-based table to view the corresponding water surface elevation.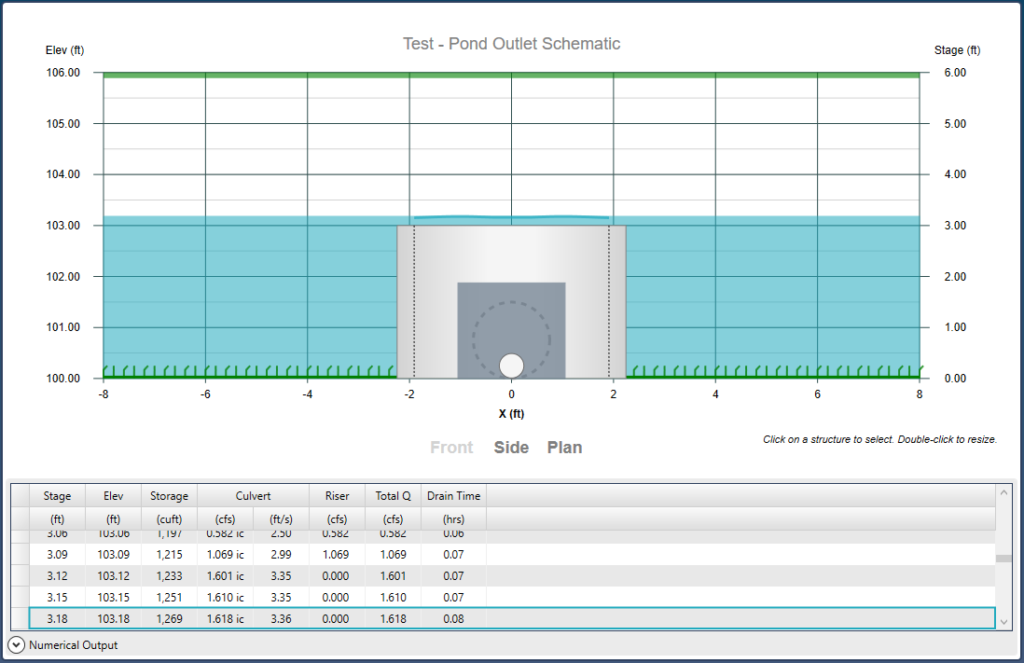 ---
v3.0.0.7-10 – May 2019
What's New
1. Corrected an issue that prevented a Pond's bottom contour area from updating when switching to other ponds via the Pond Number drop-down list box.
2. Added the Center of Mass Detention Time to the Chart display for Pond Route hydrographs. Previously was shown only on printed reports.
3. Corrected an issue dealing with failed interconnected pond routings. Occurred when the lower pond contained a multi-stage outlet device and when the Pond No. for the lower pond was not 1.
---
v3.0.0.6 – March 2019
What's New
1. You'll now have the option to utilize the Weighted Volume method, as well as the Weighted CN method when employing Composite CNs. Learn More.
2. Updated manufactured underground chamber specs.
---
v3.0.0.5 – February, 2019
What's New
Security Update. Our software code is digitally signed and secured using the latest signature algorithm sha256RSA insuring that the software you download here is authentic and untampered with. This version simply updates our Microsoft Authenticode Code Signing Certificate and may require a couple of steps more than usual to update to this version. This update will re-install the software and you will simply need to re-launch. Please see Getting Software Updates for more information.
Eliminated the requirement for pond contour areas to increase with increasing Stage. This allows you to specify contours with zero side-slopes.
Added a host of new built-in Design Storms. These include the Huff Indiana in four different zones, 3 quartiles, in 30-min, 1, 2, 3, 6, 12 and 24-hour durations; The NJDEP 2-hour Water Quality Storm; and the latest NRCS MSE3 and MSE4 24-hour distributions.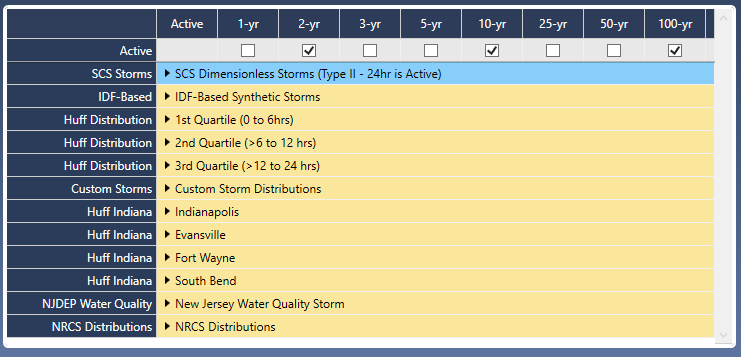 Added the ability to view the Basin Model grid using a toggle switch on the top ribbon menu.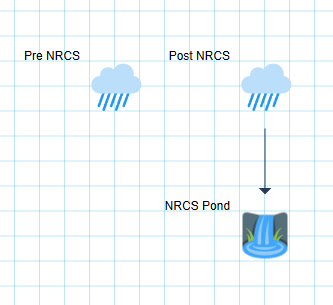 ---
v3.0.0.4 – January 2019
What's New
1. You can now view Plan and Profiles of your detention ponds from the Main Window Charts tab. A feature that previously was only available while in the Pond Designer. A side toolbar button has been added that toggles between the hydrograph plot and the detention pond plot. While displaying the optional numerical grid, you can select a row on the grid and the plot will update to indicate the selected the water surface elevation in the pond. Use the arrow keys to quickly see a simulation of Time vs Elevation. This new feature also provides plots of both upper and lower ponds for interconnected pond routings.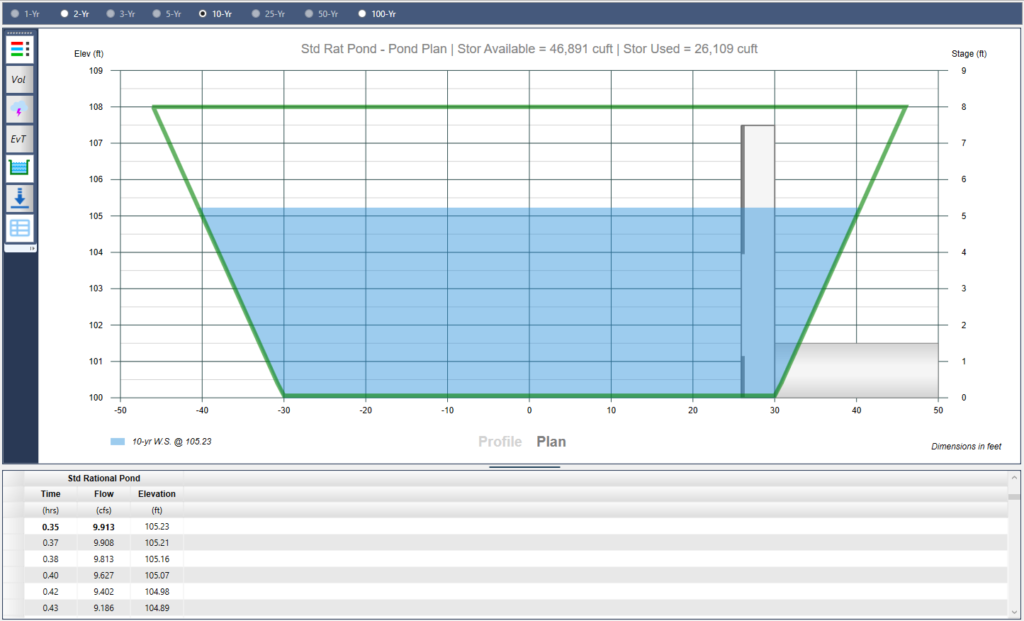 2. Fixes an issue that caused the program to immediately close after a program update.
---
v3.0.0.0/1/2/3 – January 2019
What's New
1. Pond routing options have been enhanced and simplified. You can now set tailwater elevations unique to each return period during detention pond routings.
2. Look-up tables for Curve Numbers, Runoff Coefficients and Manning's n values are now available at the hydrograph input screens so now you won't need to visit this site to look them up.
---
v2.0.0.61 – December 2018
What's New
1. The Pond Outlet Structure Schematic and Pond Drawdown plot now indicates the maximum release rate(s) corresponding to the extended (Full Spectrum) detention volumes, WQv and CPv. This feature is very useful for designing outlet device sizes, elevations, etc., in order to satisfy the maximum allowed release rates at the Full Spectrum Detention volumes.
---
v2.0.0.59/60 – November 2018
What's New
1. The ability to import rainfall IFD and precipitation values from the Australian Bureau of Meteorology (BOM). Learn more…
2. Trial Route feature displays when and where a failed routing occurs. This is now indicated in the Trial Route table in the Pond Designer and is shown on the Trial Route Plot as a yellow line. This line represents the progress of the outflow hydrograph. The end-point is where the routing stopped due to insufficient pond volume and/or outflow capacity.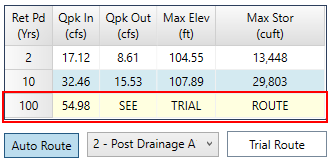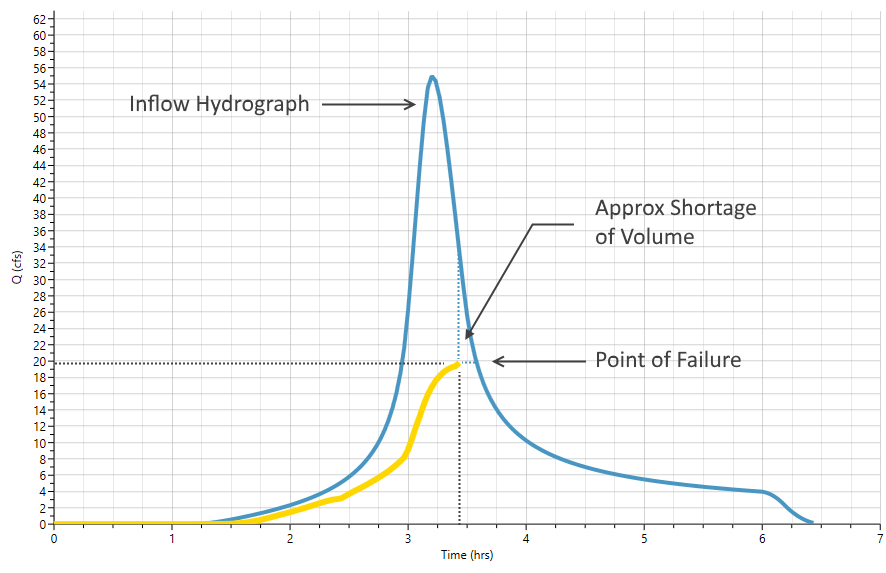 Plot indicates that the outflow hydrograph routing (yellow line) was able to progress up to Time 3.45 hours at an Outflow of 20 cfs. Learn more…
---
v2.0.0.58 – November 2018
What's New
1. Open legacy Hydraflow Hydrographs .gpw project files. Now you'll be able to bring forward your old gpw project files. Hydrology Studio will open any .gpw file from version 2007 forward including those from Autodesk® Civil 3D® Extension. This new feature will make transitioning from the old to the new… very easy!
Some restrictions apply. More information can be found here.
---
v2.0.0.56/57 – October, 2018
What's New
1. Custom Labels for Basin Model: This new version allows you to annotate your Basin Model with unique text labels. You can choose from a variety of fonts, font sizes and colors. Read more here…
2. Basin Model Snap to Grid. You can now force the hydrograph icons to align themselves to a grid. This helps for a clean layout when modifying their positions other than the default layout. In addition, you can select a grid size from a drop-down list box.
3. The Basin Model Icon Layout Lock and Unlock. A new toggle button on the Basin Model toolbar allows you to freeze the layout to prevent unwanted changes. When locked, the hydrograph's icon placement will be preserved and protected from any inadvertent moves.
4. Batch Run. You can now limit the hydrographs to be re-computed when using this feature by selecting the most downstream hydrograph. For example, if Hydrograph 5 is selected, the Batch Run will only update Hydrographs 1 through 5. A selection rectangle highlights the hydrograph that is currently being updated during the run. Learn more.
5. Hydrograph Name Prefixes. You can now include a prefix ("Pre", "Post" or nothing to your hydrograph name fields with a single mouse click. This saves precious keystrokes when doing a pre- and post-development study and you want to identify those hydrographs that are "Pre" or "Post" development. The chosen prefix will be added to the front of the Name label on the Basin Model and throughout the software, for example, Tables, Charts, Reports, etc.
6. Skip the Estimate Storage Step in the Pond Wizard. A checkbox is located on this first (and optional) step in the Pond Wizard and can be used to turn off this step permanently, or until you turn it back on. This option is very useful for those projects that have little use for a new pond storage estimate and thus eliminating the need to click through it each time you add or edit your detention pond.
7. More Error Help When Your Pond Fails. For those projects when you do not utilize the Estimate Storage feature, an enhanced message box provides vital details in helping you determine the cause and what to do to remedy the failure.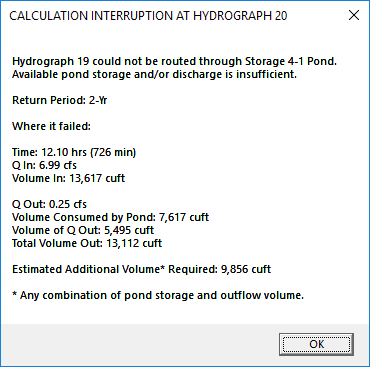 The message indicates which return period failed; at what time along the inflow hydrograph it failed; and many other stats.
It also offers an estimate on how much additional volume will be needed to obtain a successful pond routing. This volume estimate can be of any combination of pond storage and outflow volume.
---
v2.0.0.55 – October, 2018
What's New
1. New Printing Feature: A table of contents has been added to the reports options menu. You can now include an automatic table of contents to your output by simply clicking a single checkbox.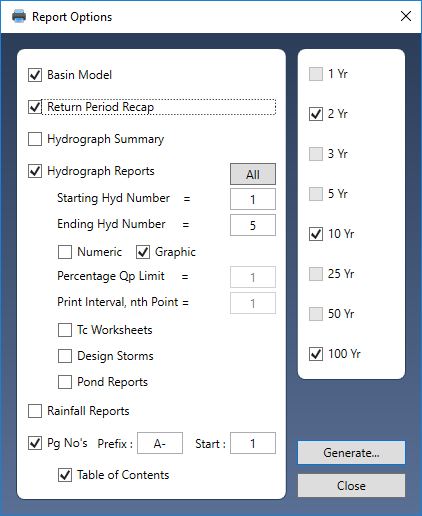 Even though this new option is located at the bottom of the list, it will appear at the top of the final document. Page Numbers option must be selected in order to include a table of contents.
2. Page Number Prefixes. You can now include a prefix to your reports page numbers, for example, "A-", for inclusion into an Appendix of your drainage reports. In this case, your pages will be labeled as A-1, A-2, A-3 and so on.
3. The Basin Model printing has been improved by scaling itself to the size of the printed page, resulting in a larger, more clear, schematic.
---
v2.0.0.54 – September, 2018
What's New
1. Pond Drawdown Time: The drain time calculations have been slightly changed to be more practical. Previous versions computed the drain times until the pond was completely empty… theoretically. This added a significant amount of time once the outflows became very small, less than 0.01 cfs. This new modification minimizes that trickle by assuming the pond is basically empty once the outflow is reduced to 0.01 cfs. This low outflow commonly occurs when the Stage in the pond is just above the water quality orifice invert.
You may notice shorter drain times on past projects, depending on the pond's configuration.
---
v2.0.0.53 – May 18, 2018
What's New
1. Modified Rational Method: Added the option to plot the individual trial hydrographs that were generated during the calculations to determine the maximum required storage. In addition, the output table includes the associated data.
Check the Mod Rational Trial box to show the trial hydrographs. Click on any row in the output table below the plot to view the hydrograph associated with the data in the grid. Right-click the table to export it to a csv file.
---
v2.0.0.52 – January 18, 2018
What's New
1. Added the ability to further customize return period frequencies. The default 25-year can be set to 15, 25 or 20 years; the default 50-year can be set to 50 or 100-year, and the default 100-year can be set to 100, 200 or 500 years. The 1, 2, 3, 5 and 10-year frequencies remain fixed.

2. Added the option to overlay the associated Design Storm when plotting NRCS Runoff hydrographs on screen.
3. Changed the nomenclature of the SCS Runoff hydrograph to NRCS Runoff.
4. Corrected an issue with the saved precipitation rainfall file that contained the 1-year event as an Active storm. This file would cause the program to crash on startup.
---
v2.0.0.51 – December 18, 2017
What's New
Added the ability to customize return period frequencies. The default 25-year can be set to 15, 25 or 20 years and the default 100-year can be set to 100, 200 or 500 years. The 1, 2, 3, 5, 10 and 50-year frequencies remain fixed.

---
v2.0.0.50 – December 5, 2017
What's New
Added Plan and Profile plotting features to the Pond Designer. Now you can view your entire detention pond in plan and section view in both Steps 2 and 3 when using user-defined Contours or Trapezoidal shape. And, they're fully interactive! Not available with Manual or Underground Chamber storages.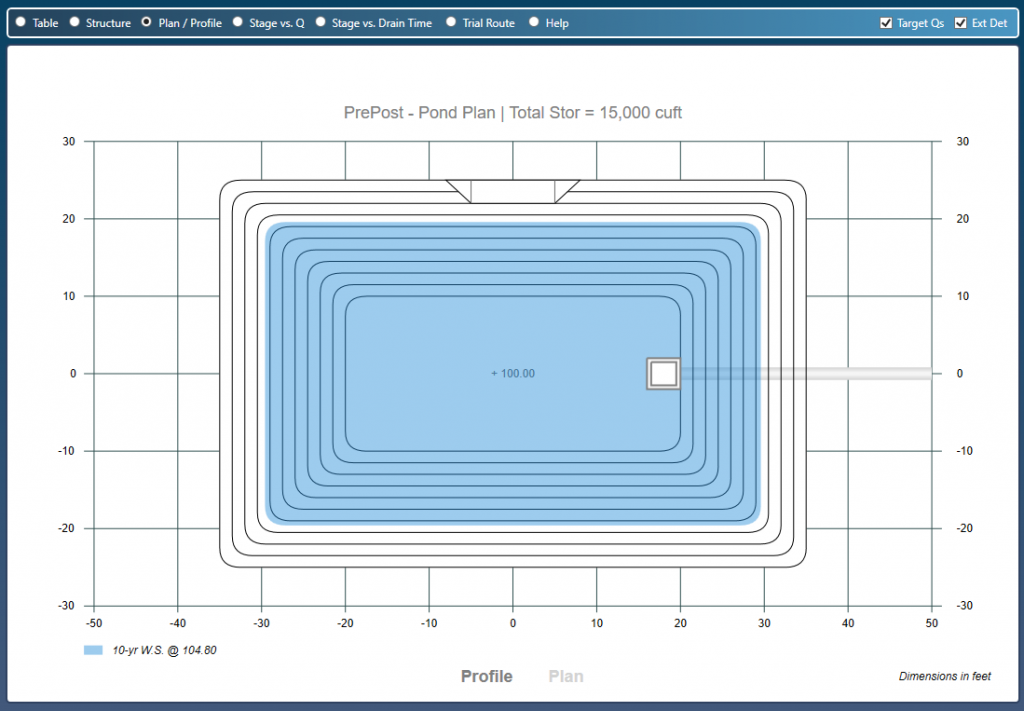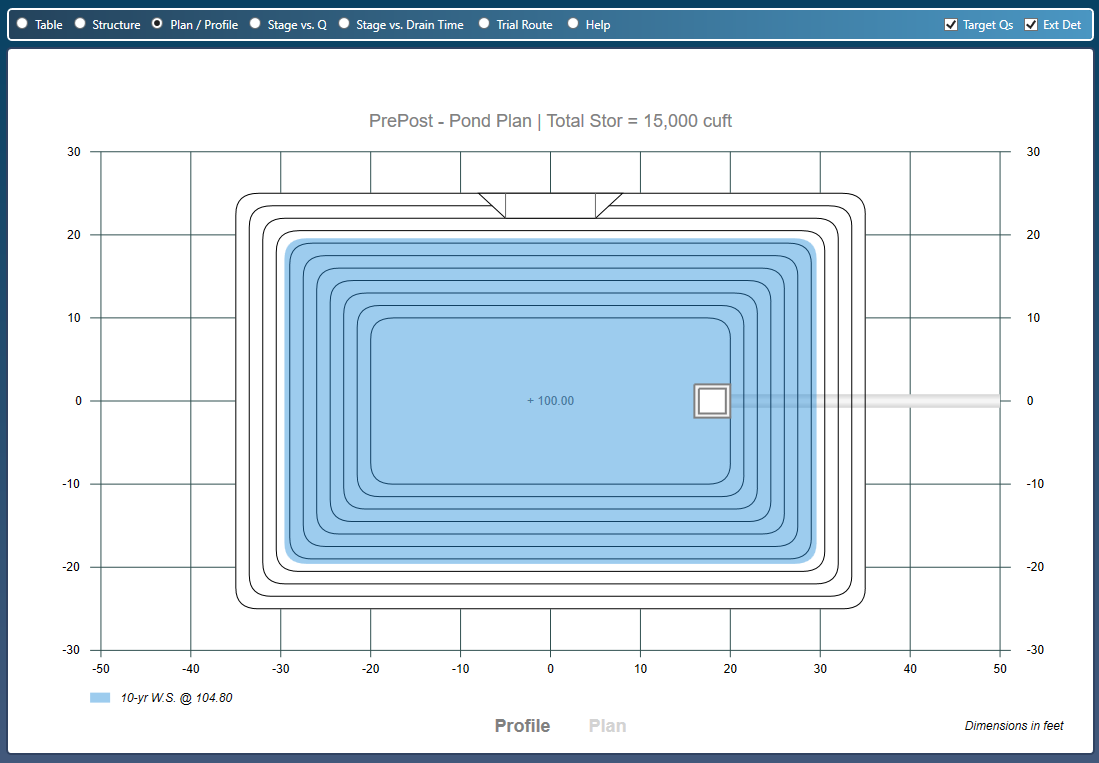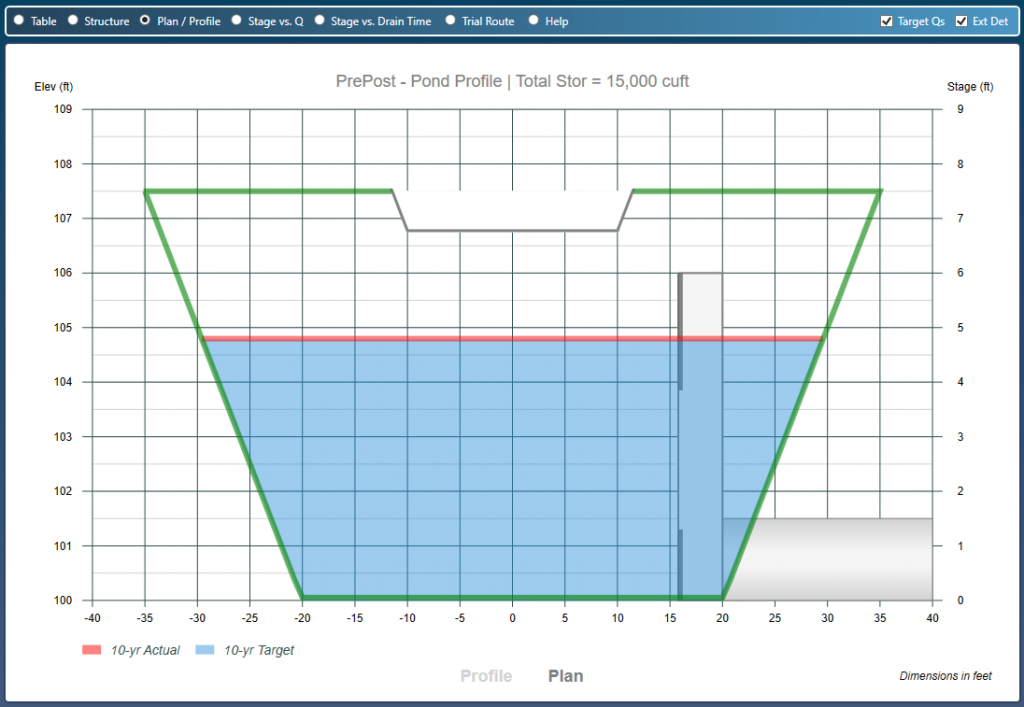 ---
v2.0.0.49 – November, 2017
What's New
Rebuilt the Help User's Guide. More to come. Enjoy!