Hydrology Studio uses four files:
Project Files: These files are used to store all of your project data including the rainfall data. These files are saved in an ASCII format and can be viewed in any word processor. Project files have a ".hys" extension. Note that the program only stores the name and location of background images.
IDF curve files: These files store the IDF curves and have an ".idf" extension.
Precipitation files: These contain your precipitation data for the design storms and have a ".pcp" extension.
Custom Design Storm files: These contain the data associated with any custom design storms and have a ".cds" file extension.
The IDF, Precipitation and Custom Design Storm data is automatically embedded within the Project Files (.hys).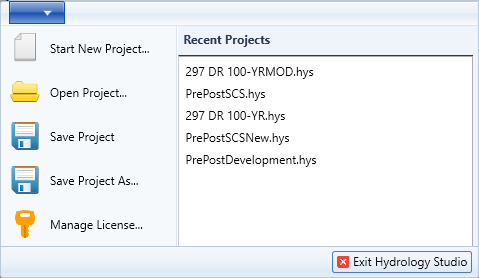 Saving Projects
Hydrology Studio works much like a spreadsheet or word processor. To save a project, select "Save Project" from the "File" menu . If you are saving this file for the first time, select "Save Project As". When using "Save Project" the program will automatically save the project under its current name. You can save your projects at any time while working with your model.
Opening Projects
To retrieve a project, select "Open Project" from the "File" menu button. You may also select a recent project from the Recent Projects list. The Recent Projects list will hold up to 5 recently open projects. To remove one from the list, right-click and choose "Remove from list".
Open Hydraflow Hydrographs .GPW Files
Hydrology Studio can open legacy Hydraflow Hydrographs .gpw project files from version 2007 forward including those from Autodesk® Civil 3D®  Extension. This new feature will make transitioning from the old to the new fairly simple. Just open these files like you would the standard .hys files but choose .gpw as the file type/extension instead.

Due to the many differences between the two programs it will be important for you to review and validate all of the input data once the gpw project has been loaded.
Units
Hydrology Studio cannot open gpw files that are in Metric units. Only U.S. Customary.
Basin Model Layout
Hydrology Studio will re-set the basin model layout to its default. You may re-customize as desired.
Rainfall
Open the Rainfall Wizard and double-check the IDF curves and Precipitation data. Save these rainfall files to the new format just as you would do normally. Hydrology Studio does not support the Huff Indy storm distribution. Those imported will be converted to the Huff 4th quartile. Custom Design storm distributions will be added to existing custom design storm group.
Hydrographs
Validate inputs for hydrographs, including composite CNs, Runoff Coefficients, and Tc calculations by TR55, and Kirpich methods. Hydrology Studio does not support the FAA method for Tc. FAA Tc's will be converted to "User" defined Tc.
Dekalb Rational method hydrographs are not supported in Hydrology Studio. Those will be converted to the Standard Rational method.
Detention Ponds
Please validate all detention pond inputs. Re-Apply and compute the stage-storage data. Step through each of the pond's outlet devices and [Apply/Update]. Pay special attention to outlet structures that are intended to be Multi-stage, i.e., flows through Culvert. Culverts must have a non-zero length.
Hydrology Studio automatically adds a Riser structure for underground chambers. It will delete any Riser structure that is part of the imported file containing underground chambers.