Following are the program updates and notes. If you have missed an update don't worry. You can simply re-download the software from our website directly from this link:
v3.0.0.19/20 – July, 2020
What's New
Exposed the X and Y coordinates for downstream ends of Outfalls on the Pipes input grid for direct input and editing. Useful for relocating outfall structures more precisely.
Added an option to either reconnect or disconnect the upstream Lines when deleting a Line. When choosing not to reconnect, it will convert the upstream Line that was previously connected to the deleted Line to an Outfall. Learn more…
Revised the precision of Line coordinates from single to double in the program's undo/redo function. Previous versions would round large State Plane type coordinates after performing an Undo.
Corrected a bug in the Pipes input grid.
---
v3.0.0.18 – April, 2020
What's New
Draw custom drainage areas right on your Plan. Now you can select any Line and then draw its associated drainage area. You add up to 50 points with simple mouse clicks to describe the boundary or polygon. The software automatically computes the drainage area and inserts it into the Drainage Area input field. The areas are displayed on your Plan at various colors and opacity that reflect the Runoff Coefficient. The drawn area can be converted into a standard Icon by right-clicking it. The area value is preserved. Learn more…
Added Custom Report variables, X & Y coordinates. Useful if you need to export those and import into other software. The coordinates refer to the upstream ends (center of structure) of the Lines.
---
v3.0.0.17 – March, 2020
What's New
Added a Legal size (8.5 x 14) page to the printed reports options. Limited to Custom, Plan and Profile reports.
Added a Custom Report variable, Q Total. Q Total is the total flow coming to a given inlet and is Q Catchment + Q Carryover.
Miscellaneous cosmetic and user-interface improvements.
License Server has been updated to provide a User Account dashboard where you can view purchase history, license keys and manage your subscription.
---
v3.0.0.16 – January, 2020
What's New
Added the ability to directly enter or edit Line X, Y coordinates. Very useful for adding new lines or making edits to an existing system where you need to match the positions of structures (manholes, inlets, etc.) with known coordinates.
Added more Undo and Redo actions.
Added Arch-shaped pipes.
Miscellaneous cosmetic and user-interface improvements.
---
v3.0.0.15 – September, 2019
What's New
More notifications that will alert you about model deficiencies. A Maximum Velocity can now be specified as well as a Maximum Inlet/Gutter Spread. With these set and their notifications turned on, the Plan view drawing will color code any Pipes and Inlets that violate their specified Velocity and Spreads. The Max Spread setting applies to curb-style inlets only, i.e., Curb, Grate and Combination.
Adds the missing variable (EGL Junction) to the Custom Report(s).
---
v3.0.0.14 – July, 2019
What's New
The software now stores your product key (Serial Number) so that you can Activate and Deactivate the License without re-entering your key each time. Three mouse clicks is all it takes. Learn more…
Improved the calculation procedure involving supercritical flow to better address regimes that do not have hydraulic jumps.
---
v3.0.0.10/11/12 – June, 2019
What's New
Graphically show drainage areas on your Plan views. This new feature will allow you to visually display drainage area icons next to each junction that has data inputs for Drainage Area, Runoff Coefficient, Inlet Time and/or Known Q.

This allows you to quickly identify if runoff data has been entered for each inlet. In addition, the icons will alert you if any single data item is missing, for example if you forgot to input an Inlet Time. Click the icons to view underlying data on the Runoff Input tab. The icons will fill with water after computing results confirming that runoff was generated. This icon function can be turned ON/OFF by checking the "Drainage Areas" checkbox on the Home tab Plan View Labels options. The setting will be saved with all other program settings.
Added Custom Report Variable, Lt. This is the HEC-22 designation for required inlet length at 100% capture. For Curb inlets only.
Miscellaneous user interface improvements.
---
v3.0.0.9 – May, 2019
What's New
Miscellaneous enhancements to the user interface.
Added more Custom Report Variables.
Added Benching images to visually assist when selecting a structure bottom shape.
Corrected the Invert Elevation Out on the downstream leader label on individual "printed" Line Profiles. It was previously showing the Upstream Invert's elevation.
---
v3.0.0.8 – May, 2019
What's New
The AASHTO method of computing junction losses is a new option. This is helpful for those who work in jurisdictions still requiring this method of computing the HGL and minor losses. Read, Storm Sewer Junction Losses for computational details.
In connection with the above option is a new Report that mimics VDOT (Virginia Department of Transportation) LD-347 Report.
Supercritical profile calculations can be optionally turned On/Off when computing.
A new junction type has been added. Any headwall structure can now include an overtopping weir to model pipes that flow under roadways, similar to culverts.

---
v3.0.0.7  – April, 2019
What's New
The mouse cursor used when adding or editing Lines on the Plan tab has been modified to be more CAD-like. You'll have the option to use a large or small version. The large cursor will extend the cross-hairs across the entire canvas while the small version has cross-hairs that are approximately 5% of the Plan view extents. These options are included in the Plan Layout options on the top ribbon menu, Home tab.
The open channel layout on the Plan tab has been improved by using transitioning between connecting channels. In addition, the actual channel water surface(s) will be shown in the Plan after computing.
---
v3.0.0.5/6  – March, 2019
What's New
Now you can easily move a Line, or entire branches of Lines, to connect to other Lines even when the new Downstream Line Number is higher. Just change the Downstream Line Number to the new connecting Line and the software takes care of the backend details. Previous versions required renumbering individual Lines first.
The Renumber Line button has been replaced with a Renumber System button. The above feature eliminates the need to manually renumber individual Lines. Now this revised feature will logically reorder all of the Line Numbers to clean-up things and make your pipe system more readable. Learn more here.
Improved the LandXML PipeNetwork Import process. Some LandXML files contain extra structures named as "Null Structure" which interfered with the process of importing and piecing together the network. The software now identifies and removes these "Structs" labeled as "Null Structure".
---
v3.0.0.4  – February, 2019
What's New
Added the ability to print the Plan View to either Portrait or Landscape orientation. It automatically crops the image to maximize the available printed space.
Security Update. Our software code is digitally signed and secured using the latest signature algorithm sha256RSA insuring that the software you download here is authentic and untampered with. This version simply updates our Microsoft Authenticode Code Signing Certificate and may require a couple of steps more than usual to update to this version. Please see Getting Software Updates for more information.
---
v3.0.0.3  – February, 2019
What's New
Added a new feature that allows you to share Custom Reports. You can import and export any custom report to re-use at a later date or to share with a colleague so that they don't have to re-create the report setup.
You can now print individual Line Profile plots all at once. Previous versions required printing them one at a time. Options include printing out only the selected Lines, or all of the Lines in your project. These are high quality printouts.
---
v3.0.0.1/2  – February, 2019
What's New
Added a new feature that allows you to reverse the order of the Pipe or Channel inputs when entering their data. The default orders the Downstream Invert to be entered first; then the Slope and then the Upstream Invert. The Upstream Invert is automatically calculated based on the Downstream Invert and the Slope. This new feature allows you to reverse that order so that you may work in the downstream direction, entering the Upstream Invert Elevation first; the Slope and the Downstream Invert Elevation. Click here for more information.
Corrected an issue that prevented Channel Side Slopes from updating its new value on the input grid.
---
v3.0.0.0  – January, 2019
What's New
Mostly cosmetic items for this release. The Undo and Redo buttons were relocated to the Ribbon's main menu. The Quick Access Toolbar was removed in order to be consistent with the other Hydrology Studio products.
Corrected an issue that reset Line 1's downstream invert elevation to zero when it was initially set to a negative elevation by the user.
---
v2.0.0.63  – December, 2018
What's New
Improved the program's ability to georeference image-based background maps. You can now specify control points after importing your map by locating them with your mouse and entering in their corresponding X, Y coordinates. The software uses these coordinates to georeference the map. Most image formats are supported including bmp, jpg, png and tiff with companion World files. Learn more …
---
v2.0.0.62 – November, 2018
What's New
Stormwater Studio will automatically design riprap protection aprons as an added Outfall Junction type. Your outfall junction types will now be: Open Pipe (default), Headwall, Circular MH, Junction Box and the newly added Riprap Apron.

When the Riprap Apron is selected, the software will automatically design a riprap apron providing you with FHWA Class, D50 rock size, length, depth and velocity.

It employs the methods presented in FHWA HEC-14. It provides finished plan and profile views along with variables to include in your custom reports.

Profile and Plan views of finished Riprap Apron design are available on the Surface tab.
---
v2.0.0.61 – September, 2018
What's New
Added the ability to import two TIN

(Triangulated Irregular Network)

surfaces; one for proposed or finished surface and a second to represent the existing surface. Previous versions allowed only a single TIN surface which represented the proposed or finished condition. This new feature will automatically set your storm sewer Surface/Rim Elevations to match the Proposed TIN Surface. If the location of your Line(s) change, so do the Rim Elevations. The second or Existing TIN will be shown on your Profiles to document the existing terrain and will not be connected to the Surface/Rim elevations. You will also have the ability to choose separate colors for the TIN Surfaces.
Duplicate Inlet IDs on DXF Profile exports has been corrected.
---
v2.0.0.60 – August, 2018
What's New
Now you can save profiles! This new feature allows you to save any selected set of Lines on the Profiles tab. Once saved, you can simply select the previously saved profile from a drop-down list box that contains all of your saved profiles. You can add and remove profiles from the List at any time.

Up to 50 unique profiles can be saved for each project.
---
v2.0.0.58/59 – July/August, 2018
What's New
Added the ability to specify the type of structure at outfall lines. These can be selected from a drop-down list box only visible for lines with a Downstream Line Number of zero (Outfall). Your choices are: Open Pipe (default), Headwall, Circular MH and Junction Box. Note that this option is cosmetic and will not affect the calculations.
You no longer need to specify Rise and Span for Circular pipes. This input has been streamlined to just, "Diameter".
v2.0.0.59, Fixed the occasional hidden Bottom Width input cell for Channel sections.
---
v2.0.0.57 – July, 2018
What's New
Refined the Slope Correction Factor on the Inlet Control equations to be less conservative on Projecting, Square and Beveled edged Headwalls.
The Gutter group row now opens up for Generic inlets on the Inlets input tab. Generic inlets are assumed to be on grade and thus requires gutter inputs including Longitudinal Slope.
---
v2.0.0.56 – June, 2018
What's New
Now you can specify a variety of inlet edge types for headwalls. Your choices are:
Projecting
Square Edge
Mitered to Slope
Beveled Edge
Earlier versions assumed a Square Edge.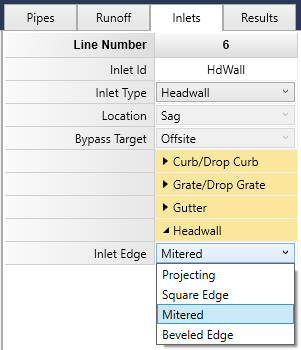 Note that this option only affects the results of the computed HGL for Headwall inlet types and when the calculation option "Check for Inlet Control" has been checked ON. This is on by default but you can verify this setting on the Compute tab under "Calculation Options" on the ribbon menu.

---
v2.0.0.54/55 – May, 2018
What's New
Simplified the inputs for Inlets by only showing those items necessary for each particular inlet.
The Inlet Type drop-down list box now indicates the current default curb inlet opening type, Horizontal or Inclined throat.
---
v2.0.0.53 – March, 2018
What's New
Corrected an error on reporting Total Runoff on Diversion Lines when using the Rational method.
---
v2.0.0.51/52 – October, 2017
What's New
Added the ability to customize return period frequencies. The default 25-year can be changed to 15 or 20 years and the default 100-year can be changed to 200 or 500 years. The 1, 2, 3, 5, 10 and 50-year frequencies remain fixed.

Rebuilt the Help User's Guide. More to come. Enjoy!
Corrected an error that caused the Return Period and Minimum Tc drop-down list boxes to double-populate when switching between U.S. Customary to Metric.
Corrected a profile plotting error that occurred when using a negative coordinate system while plotting rectangular pipes.
---
v2.0.0.50 – September, 2017
What's New
Added the ability to import a Surface TIN (Triangulated Irregular Network) map to your projects. A TIN Surface can be imported only in a LandXML-formatted file. It will automatically set your storm sewer Surface/Rim Elevations to match the TIN Surface. If the location of your Line(s) change, so do the Rim Elevations.
Added the ability to load background maps from LandXML files. Alignments, Parcels and Plan Features can be imported.
Improved the rendering speed of DXF background map.