It is important to note that one of the underlying assumptions when creating runoff hydrographs is that the drainage areas are homogeneous, i.e., similar CNs, slopes, etc. When they are not, it is best to break up the watershed into separate, homogeneous subareas, creating individual hydrographs and adding them together to form a junction and creating model confluence points in your watershed. This article explains how to do just that.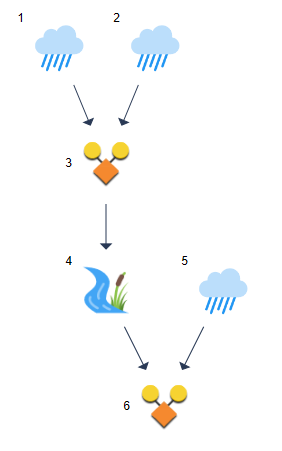 Hydrology Studio can combine up to six previously generated hydrographs at a time. They can be of any type, for example, you can combine Runoff hydrographs with Pond Routed hydrographs. The only restriction is that you can only add hydrographs that are upstream (must have lower hydrograph numbers) of the Combined hydrograph.
It is also important to note that hydrographs are added based on time, not flow rates. The program sums the Qs of the inflow hydrographs at each Time Interval. Thus, the peaks of the inflow hydrographs may or may not occur at the same time as the final combined hydrograph.
Combining Hydrographs
To add or combine hydrographs, select them first by dragging a rectangle around them with your mouse or alternatively, click on the icons while holding down the [Shift] key.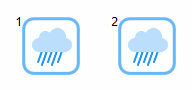 Then click the [Junct] button on Ribbon Toolbar.

Your model schematic will then look like this: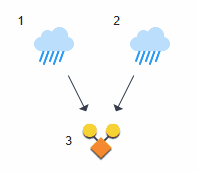 After the icon has been added, simply click on its icon or row, depending on which tab you are working from, to populate its input window.
Required Data
The following is a description of each of the required input items.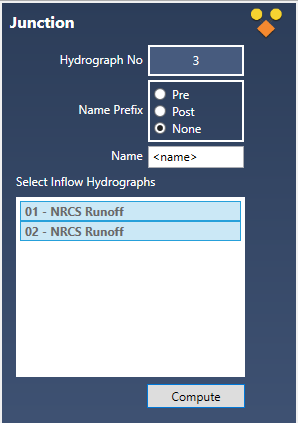 Name Prefix
You can include a prefix ("Pre", "Post" or nothing to your hydrograph Name field with a single mouse click. This saves precious keystrokes when doing a pre- and post-development study and you want to identify those hydrographs that are "Pre" or "Post" development. The chosen prefix will be added to the front of the Name label on the Basin Model and throughout the software, for example, Tables, Charts, Reports, etc.
Name
Enter any descriptive name for this hydrograph. It will appear on the printed reports as well as the Basin Model.
Select Inflow Hydrographs
Select the inflow hydrographs from the list box. These are pre-selected but can be edited at any time. You can only add hydrographs that are upstream (must have lower hydrograph numbers) of the Combined hydrograph.
Click [Compute] to create the junction.